Regardless Of Assurances From The Police
Interactions With The Police Can Be Deadly
Maybe - Mr. Thripp's reluctance to have him or his family exit the safety of their home was founded in a honest fear of the police? Afterall - just months prior (September 2014) - Volusia County Sheriff Deputy Joel Hernandez - while in civilian clothes and sporting a mohawk style haircut -
shot and killed Mr. Edward Miller - a deaf 52 year old father
- as he and his son was attempting to depart a tow yard. Was Thripp aware of the Miller shooting - and the sheriff's department's apparent history of shooting first and asking questions later?
Apparently - Mr. Thripp found no reassurance in 911 operator "Shannon's" comments that the Volusia County Sheriff Department does not shoot anyone if they haven't committed a crime (see 911 call #6 - around minute 1:38).
Sadly - about two months after "Shannon's" assurances that the VCSO would not shoot anyone not committing a crime -
Derek Cruice, 26 was gun down (killed - shot in the head) by VCSO Deputy Todd Raible within Cruice's own home
. While Deputy Raible insisted that Cruice had a gun - - the fact is Cruice did not have a gun. In the end - the Florida Department of Law Enforcement cleared Deputy Raible of any criminal wrong doing. However, Volusia County was quick to resolve any civil liabilities by providing the Cruice family with a $500,000 settlement.
POLICE TO THRIPP - Turn Off The Camera !
We (VolusiaExposed) found it to be of interest - that in Thripp video # 3 - around minutes 21:40 - the deputy outside the Thripp house attempts to order Thripp to turn off his video camera. Could it be that the deputy wanted the camera to be turned off - because minutes earlier this apparent same deputy was recorded stating that they (VCSO) had probable cause - and that they (VCSO) were going to break into the Thripp house (ref: Thripp video # 3 - around minutes 18:36)?
Thripp asked one of the deputies at his door if they (deputies) were going to shoot him or his family - the deputy responded "NO" - Thripp asked if the deputies were going to tase them - the deputy responded "NO" - and then Thripp asked the deputy of they were going to break into his house - the deputy responsed "YES" - the deputy went on to say that they had probable cause to break in. (Thripp video #3 - at about 18:36 minutes)(Is this an example of one of those legal police lies?)
Falsehoods In The Thripp Charging Affidavit?
Given that the deputies could legally lie to Mr. Thripp regarding why they were knocking on his door - the deputies can not legally lie in their sworn statements to the State Attorney and the Court. That is unless the State Attorney and the Court allows them to.
VolusiaExposed.Com has closely reviewed and compared
VCSO Deputy Richard Graves' charging affidavit
against the 911 audio recordings and Mr. Thripp's home videos. (see attached 911 recordings & Thripp videos)
VolusiaExposed.Com holds the opinion that Deputy Graves' charging affidavit contains a rather revealing falsehood. Deputy Graves wrote:
"......the defendant did not allow direct contact and the son only answered in one word responses which caused further concern with the law enforcement officers present in that they believed the answers presented by the son were made under duress. The described interaction was also noted to have been captured on the described video."
We invite our readership to review the linked Thripp videos - so that they can determine for themselves - whether the son was answering in
"one word responses"
.
We suspect that our readers will conclude as we did - that Deputy Graves' statement can not be backed by the video evidence - as he has alleged in his sworn charging affidavit. In our opinion the son was being very vocal in his desire not to come out of the house to speak to the deputies.
Realizing that it's a crime to misuse the 911 emergency communication system - is it also a crime for a law enforcement officer to lie in a sworn written statement to the Court? We believe that it is. Then again - maybe Deputy Graves made a simple mistake. However, honest mistakes are usually quickly corrected - while nefarious misrepresentations of the facts are not so quickly corrected.
Recently, Mr. Thripp filed a
Demand For Discovery
with the Court - within this document - Thripp memorializes this particular concern within Deputy Graves' sworn charging affidavit.
Should this case go to trial - Deputy Graves might find himself in a similar situation that LAPD Detective Mark Furman found himself in during the OJ Simpson murder trial. In short - has the charging officer lied - and if so - has this lie compromised the credibility of the filed charge? Further - if his department and the State Attorney are aware of the lie - and does nothing to correct it - does this also attached credibility issues to them (VCSO / SA)? We think it does - what do you think?
VCSO's Handling Of Similar Incidents
How has the VCSO handled similiar past situations of citizens mis-using the 911 system OR refusing to engage the VCSO at their front doors? VolusiaExposed.Com believes that by reviewing how the VCSO has handled past alleged misuse of the 911 system - it will allow us - and our readers - to fairly evaluate whether the charge filed against Thripp was done under an honest OR a retaliatory purpose?
The Mark Carper Incident
In April 2012 - Mr. Mark Carper's DeLand neighbors were making 911 calls stating that Carper was threatening them with a fire arm. Allegations included hearing random gun shots coming from the direction of the Carper home.
The VCSO did send deputies to the Carper home - in order to investigate his neighbors concerns for their safety.
As is documented in our
January 2013 article
- when deputies arrived at Mr. Carper's front door - Carper proceeded to place a handgun to his head - causing the deputies to retreat - while requesting further law enforcement back up.



2012 - Sheriff Ben Johnson Discusses
The Mark Carper Incident

Initially - the VCSO surrounded the Carper home - attempting to convince him to come out of the house. However - shortly later - and as outlined in the attached video statement by Volusia County Sheriff Ben Johnson - the VCSO pulled away from the Carper house - with Mr. Carper being allowed to remain in his home. Approximately two weeks later - shortly before committing suicide - Mr. Carper shot and killed his neighbor.
During Sheriff Johnson's bid for re-election in 2012 - VolusiaExposed caught Johnson on video explaining why the sheriff department did not remove Mr. Carper from his home (video attached). Bascially - Johnson stated that Carper was in his home -
HIS CASTLE
- and he (Carper) had not done anything wrong. So - regarding the Thripp incident - was (is) Thripp's home his castle - and what crime was Thripp committing by not coming out of his castle?
And here is a question for our readers - if a group of armed persons claiming to be the police were outside your house in the middle of the night - you have not called them - and you know you haven't committed a crime - they will not fully answer your questions - and they were threatening to break your door down - what would you do ? Would it possibly include calling 911?
The Patricia Marianetti Incident
As detailed in our
May 2013 article
- for whatever reasons - Patricia Marianetti apparently desired to commit what is commonly known as "suicide by cop".
In forwarding her desire to die - Marianetti made a false 911 call - stating that her house was actively being buglarized. The Volusia County Sheriff Department appropriately scambled deputies to the Marianetti home address.
Upon the deputies arrival - they confronted Marianetti pointing what deputies initially thought was a rifle in their direction. The rifle was eventually identified as a pressure washer wand.
Marianetti refused to drop the "weapon" and was shortly thereafter shot by a responding deputy.
Patricia Marianetti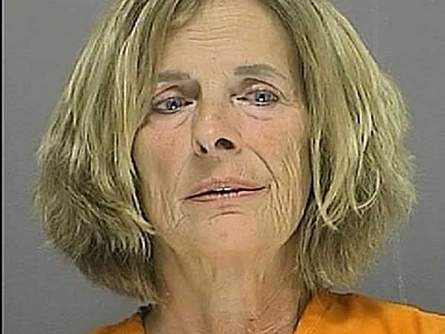 Marianetti was transport to the hospital via sheriff helicopter - where she survived her wounds. She was never charged with any crime - - to include misuse of the 911 system. But then again, she lived in an affluential area of the county.
The Cynthia Colston Incident
According to her
December 2010 arrest report
the Volusia County Sheriff Department criminally charged Cynthia Colston with misuse of the 911 system.
Colston usage of the 911 system dealt with a disagreement between herself and her manicurist over the proper length of her fingernails.
Shortly after her arrest - Colston retained a local attorney who promptly filed with the Court a
Demand For Discovery
. In short - Colston's attorney made a legal request for all the evidence the prosecutor had in support of their criminal prosecution against Colston.
Such discovery demands can be very time consuming and costly to fulfill - and in the Colston prosecution - it was like having to spend a dollar to chase a nickel case. Apparently someone within the State Attorney's office had the common sense not to waste taxpayers' dollars on a nickel prosecution - by quickly filing a
No Informational
- thus ending the Colston prosecution.
Cynthia Colston